tempCube Security Cameras 4 pc Bundle, 1080P Wifi Camera with Night Vision, 360° Smart Cameras with Motion Detection, 2-Way Audio, WiFi Home Camera
Regular price

$299.00

Sale price

$160.00
Connect to your House anytime, anywhere , Peace of Mind , Best Security Camera at just $30 each.


Are you looking for a way to keep an eye on your Home, Second Home, Babies , Greenhouse, Terrariums , RV while you're away from home?

If so, the 1080P IP WiFi Camera is the perfect solution.

This camera features dual-band 2.4G/5G WiFi, AI tracking, two-way audio, and night vision, so you can keep an eye on your pets 24/7. Plus, the included app makes it easy to check in on your pets from anywhere.
Here are some key features of the waggle WiFi 1080P IP Camera:
360 Degree View 


LED lights for night vision


Two-way sound (talk to your pets from the app and sound from the cam)


Motion Sensor and Motion Alerts


Dual Band (2.4 GHz and 5GHz connectivity)
How does the cam work?
Step 1: Download the app YI IoT to connect with the app

Step 2: Ensure you have strong WiFi for your Camera to get connected

Step 3: Sign Up in the app and create an account

Step 4: Connect your camera to the WiFi

Step 5: Scan the QR Code in the app by placing the code in front of the cam.

Step 6: After voice confirmation, your camera is connected. 

Details of the Product:

APP: YI IoT

Model: IPC-ML800

Pixel: 720P

Processor: AK3918EV200/FH8626V100

Sensor: 1 million GC1054

Number of lenses: 3.6MM

Operating system: Embedded Linux operating system

Video format: PAL/NTSC

Video processing: H.264 video encoding

Connection method: wireless connection, AP hotspot connection, no network video

Wireless connection: 802.11a/b/n/g transport protocol

Antenna mode: built-in antenna (2.4 5G dual-band antenna)

Wired connection: Internet (TCP/IPv4) protocol

Audio input: built-in microphone head G.711A

Audio output: built-in 1 8 ohm 1W speaker

Gimbal angle: horizontal 355° vertical 90°

Preview mode: full screen, half screen

Video output: 1280*720/1920*1080

Mobile Tracking: Supported

Day and night switching: built-in IR-CUT dual filter

Infrared night: 6 infrared lights

Minimum illumination: black and white 0.001 Lux@F1.2

Video storage: TF card, cloud storage

TF compatible: Support 8-128GB TF card, the APP side displays the capacity as a percentage

Recording method: timing recording, time recording, alarm recording

Alarm method: APP push machine horn alarm

Motion detection: support

Security protection: password mechanism sharing mechanism

Network protocol: RTSP/FTP/PPPOE/DHCP/DDNS/NTP/UPnP and other network protocols;

Body material: industrial plastic ABS

Daytime visual distance: 0-50 meters

Infrared distance: 5-10 meters

Occupied space: 4G/day (depending on storage efficiency and environment)

Language Support: Supports multiple national languages

Mobile monitoring: support mobile monitoring (iOS, Android)

Network interface: no network port

Power supply: DC 5V1A micro USB interface

Power consumption: less than 2W (excluding infrared light, gimbal, and speaker)

Temperature: minus 10?— 55?

Humidity: 10%—80%

Plug Specifications: US/EU/UK/AU (optional)

Weight: 300g

Size: 16.5*10.4*9cm
Package Includes :

1* Surveillance camera

1*USB cable

1*plug

1*Bracket base accessories

1*Instruction

1*SD Card (Based on your selection)
Try our product risk-free for 30 days, or your money back. NO Questions asked!
Why tempCube?

Stay Connected Always: Instant alerts Everywhere, Every moment.
Swiss made Sensors with Digital Display & Rechargeable Batteries.
Dual Band Connectivity - 2.4 & 5GHz Wi-fi (Wi-Fi)
 24/7 Text Alerts & Unlimited Email Alerts. Download the FREE tempCube App.
Unlimited Historical data with Temperature & Humidity Graphs (Wi-Fi Variant)
Cellular Specification

Connectivity:Powered by Verizon US
Subscription:Cube works with an active subscription. Plan starts from $16.5/mo.
Battery Type:Rechargeable Lithium-ion Battery
Temperature Alert:Email & Text Alerts in Set Intervals
Humidity Alert:Email & Text Alerts in Set Intervals
Low Battery Alert:Get Alerted when your cube's battery is low
Power loss/back Alert:Get Alerted when your power goes off.
Temperature Accuracy:-22°F to 140°F
Relative Humidity Range:30% to 95% RH in 60°F to 140°F
Humidity Accuracy:±5% RH
Wi-Fi Specification

Display:Yes - LCD
Battery Type:Rechargeable Lithium-ion Battery
Battery backup:Lasts up to 90 days
Data History:Fetch data up to 90 Days
Dimensions:1.69" X 2.26" X 0.78"
Temperature Range: -22°F to 140°F
Relative Humidity Range:30% to 95% RH in 60°F to 140°F
tempCube Pro Weight:40g / 1.4oz
Temperature Alert:Email & Text Alerts in Set Intervals
Humidity Alert:Email & Text Alerts in Set Intervals
Low Battery Alert:Get Alerted when your cube's battery is low
Subscription:Free Plan for 24x7 monitoring with Email Alerts.
Connection Type: Dual band: works with both 2.4 and 5GHz WiFi Connectivity
Shipping Details

Order now and get your device delivered within 3-5 biz days.
Stay Ahead with tempCube Cellular: Your Guardian for ambient Control
Discover the power of peace of mind with tempCube™ Cellular. Instantly detect critical environmental changes and minimize risks. Powered by Verizon and easy to set up via our app, tempCube Cellular keeps you informed Everywhere, Every Moment.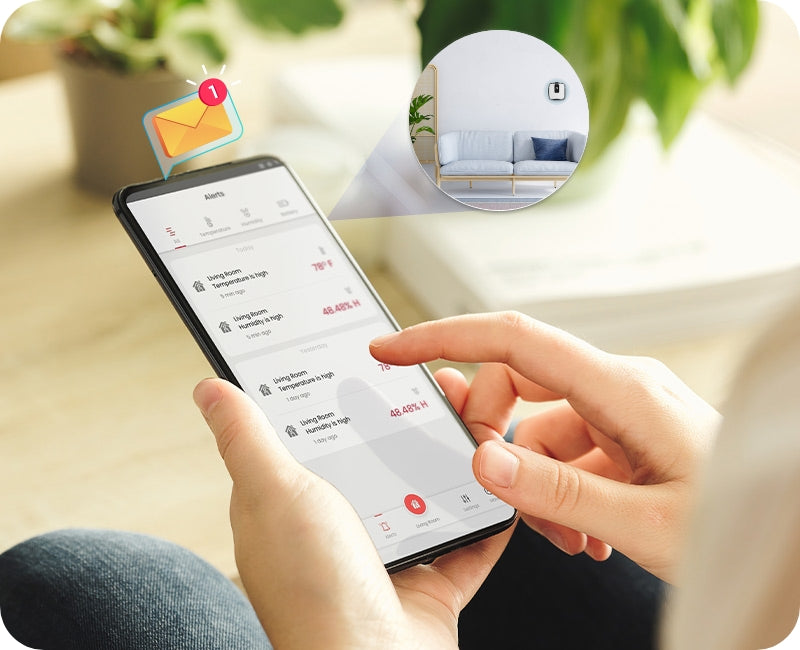 Smart Alert Notifications
Never miss a beat when it comes to monitoring temperature and humidity levels. Check the readings with the user friendly tempCube app. And, if conditions change, you'll be alerted immediately through in-app notifications, email, and text - giving you complete peace of mind.