tempCube Pro + Wifi Remote Temperature Monitor | 2.4 and 5 GHZ Wifi | No Subscription | Lifetime Free
Regular price

Sale price

$320.00
Swiss made Sensors
Compact Size with Rechargeable Batteries
No Subscription. FREE App. Unlimited Email Alerts 24/7
Digital Display and instant text alerts
Dual Band - Works with both 2.4 and 5 Ghz Wifi
Monitor Greenhouse, Wine Cellars, Server Rooms, RVs, Fridges and Freezers, Labs , Vacation Homes etc
Searching for a simple method to keep tabs on temperature and humidity?

Track environmental conditions effortlessly with our smart device. Accurate and real-time temperature and humidity readings provide comfort and safety. Connect to WiFi and access data from anywhere using your smartphone or tablet. Stay informed about any changes affecting your environment. User-friendly and sleek design that blends seamlessly. Easy setup and operation. Mobile app offers historical data and customized alerts. Take control of your environment with confidence. Get yours today!
Specifications

tempCube Pro: WiFi Temperature & Humidity Sensor

Dimensions: 1.69" X 2.26" X 0.78"

Temperature Range: -22°F to 140°F

Relative Humidity Range: 30% to 95% RH in 60°F to 140°F

Temperature Battery Mode Accuracy: (41°F to 140°F): ±2°F

Temperature Charging Mode Accuracy: (-22°F to 140°F): ±2°F

Humidity Accuracy: ±5% RH (Relative Humidity)

tempCube Pro Weight: 40g / 1.4oz

Display: Yes - LCD

Battery Type: Rechargeable Lithium-ion Battery

Data History: Fetch data up to 90 Days

Temperature Alert: Email & Text Alerts in Set Intervals

Humidity Alert: Email & Text Alerts in Set Intervals

Low Battery Alert: Get Alerted when your cube's battery is low

Subscription: Enjoy Real-time Alerts on Temperature/Humidity changes with NO SUBSCRIPTION or MONTHLY FEE. One solution for all your Temperature Tantrums. Get instant text alerts & UNLIMITED EMAIL ALERTS via Phone from Anywhere, Anytime

Connection Type: 2.4 and 5 Ghz WiFi Connectivity
Why tempCube?
Wifi Connected

Go wireless with tempCube - easy WiFi connection with 2.4GHz routers and mobile phones. Effortless monitoring from anywhere, anytime.

Small Yet Smart

The compact and intelligent device fits comfortably in your hand and boasts all the features necessary to make it the top choice for a Wi-Fi temperature monitor

USB Powered Rechargeable Battery

Experience the ease of using tempCube anywhere and anytime with its USB-powered adapter and take advantage of its rechargeable battery that lasts up to 90 days.
tempCube Wi-Fi Temperature & Humidity Sensor
Monitor temperature and humidity from anywhere, anytime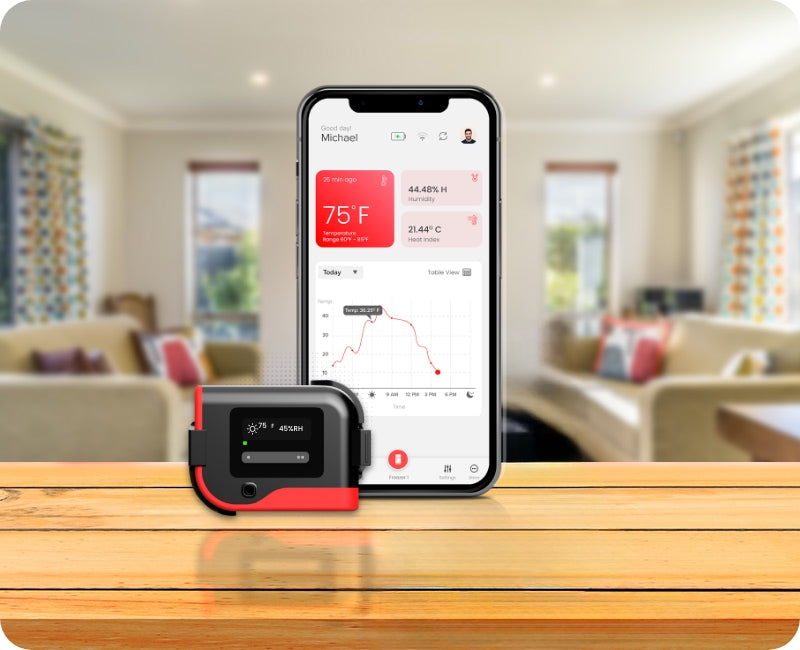 Most Accurate Temperature & Humidity Sensor
tempCube™ WiFi-enabled smart wireless temperature sensor alerts you via email and text when temperature or humidity goes low or high. Get your temperature and humidity sensor with real-time alerts today!
How does tempCube work?
Experience effortless monitoring with tempCube. Simply place the device, download the tempCube app from PlayStore or AppStore, register, and connect to a WiFi network. Receive real-time temperature and humidity readings and alerts.
Tailored Options / Personalized Control:
Customize your preferences with the user-friendly dashboard, set temperature/humidity ranges, notifications, and more. Stay connected from anywhere using the app for easy, on-the-go access.
Seamless Monitoring
Crystal clear user interface & experience. Enjoy continuous monitoring and peace of mind with alert notifications all year round.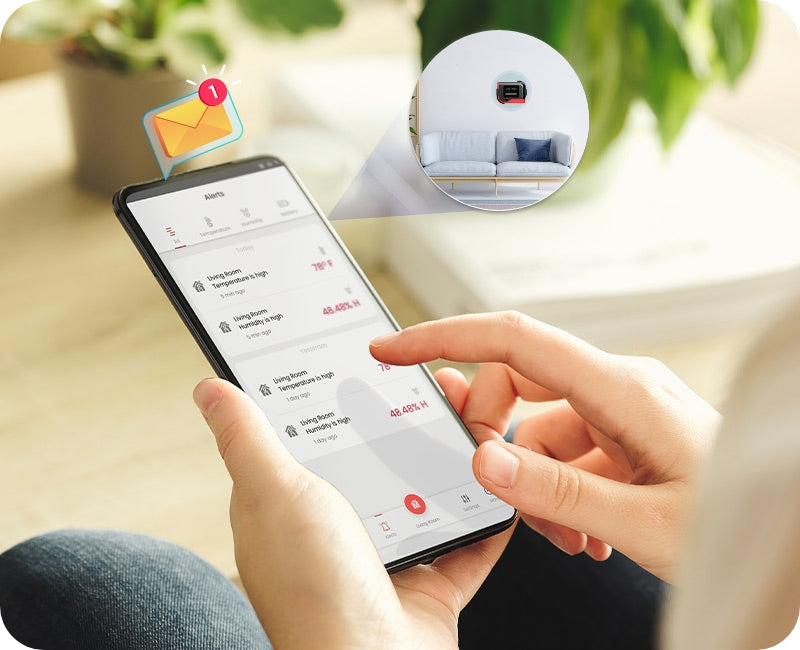 Smart Alert Notifications
Never miss a beat when it comes to monitoring temperature and humidity levels. Check the readings with the user friendly tempCube app. And, if conditions change, you'll be alerted immediately through in-app notifications, email, and text - giving you complete peace of mind.
FAQs
What are all the alerts tempCube notifies?

You will get instant alerts if the temperature and humidity change in your environment, and if the monitoring device's battery runs low. This way, you can stay one step ahead of any potential issues, ensuring a safe and comfortable environment.
Is there an additional fee to use tempCube?

All the features of the tempCube, such as 24x7 monitoring, email alerts, text alerts, power loss, power recovery alerts, and data logger, are free to use forever.
Does tempCube control/connect to other home/smart devices?

No. The tempCube is a WiFi-connected sensor that measures temperature and alerts; it does not control any device and is not used for home automation.
Is there a device warranty?

Yes, we provide our customers with a 12 month warranty, so you can have complete peace of mind. With this extended warranty, you can be sure of the quality and reliability of our products.
How does tempCube get connected?

The tempCube monitor gets connected through wifi after you download and register the app.